●Compact size for flexible installation layout
Comes with DIN rail attachment for easy installation and removal
●Static charge neutralization area can be changed to match production line layout
Maximum of 10 ionizer heads can be daisy-chained to cover areas up to 2 m wide (recommended).
●Eco-friendly (contains no hazardous beryllium)
●Easy to Shield
Soft X-rays can be completely shielded with acrylic plate only 3.3 mm thick.
●Low cost, Low power consumption, Long service life
When X-rays hit a stable atom or molecule, an electron is ejected out of the atom or molecule leaving a positive ion (atom or molecule of positive polarity). The ejected electron then combines with another stable atom or molecule to form a negative ion (atom or molecule of negative polarity). As a result, the same amount of positive ions and negative ions are generated.
These ions are also generated in the vicinity of a charged object, and they are attracted to the charged object to
neutralize the static charges.

EXAMPLE OF INSTALLING THE PhotonIonBar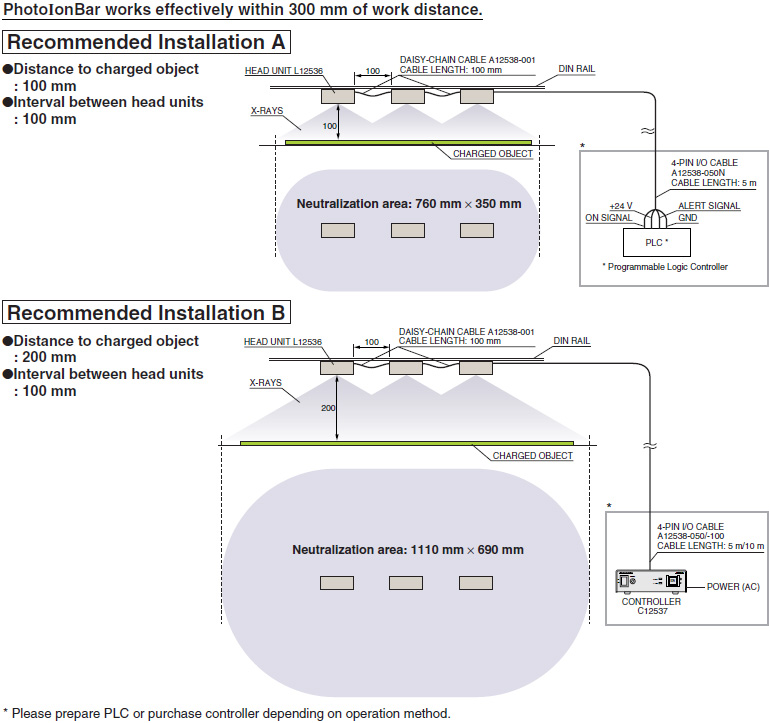 CHARGE NEUTRALIZATION EFFECT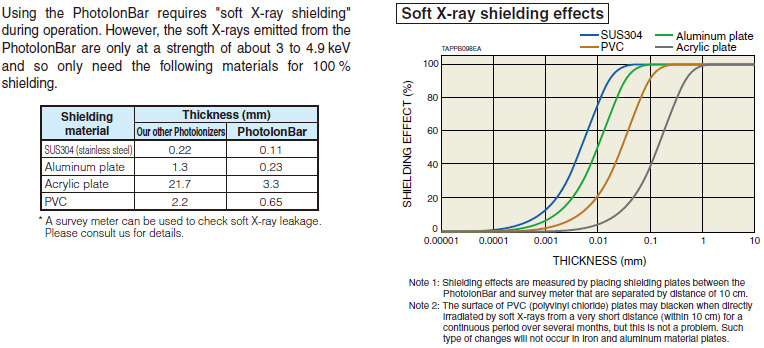 Parameter

Description

 

Tube Voltage (DC)

4.9 kV

Soft X-ray Tube

Tube Current

150 µA

 

Beam Angle

120 °

Recommended Distance to Charged Object

100 mm

Recommended Interval between Ionizer Heads

100 mm

Installation Method

DIN rail mount

Connection to Head Unit

Control cable

Maximum Connectable Head Units (per one controller)

10 head units

Input Voltage (AC)

100 V to 240 V (50 Hz / 60 Hz)

Power Consumption

45 W Max. (when 10 head units are connected)

Head Unit

Guaranteed Life

1 year

Life Expectancy

15000 hours

Operating Ambient Temperature / Humidity

0 °C to +40 °C / Below 60 %

Storage Temperature / Humidity

-10 °C to +60 °C / Below 80 %
DIMENSIONAL OUTLINES

(Unit: mm)