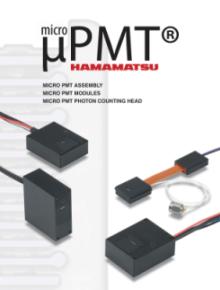 World's smallest and lightest photomultiplier tube.
Micro PMT can be produced in high volume while still maintaining high reliability and performance. What makes this possible is overall integrated usage of our in-house advanced technologies for MEMS (micro- electro-mechanical systems), semiconductor manufacturing, electron trajectory design, vacuum sealed packaging, and vacuum processing.
Micro PMT has a three-layer structure where a silicon substrate is sandwiched between two glass substrates. Utilizing only three components gives tiny dimensions impossible up until now.
Micro PMT devices offer strong shock resistance since anodic bonding by MEMS technology is utilized to join the silicon substrate to the glass substrates. This high cushioning or shock resistance makes them ideal for developing high-performance, hand-held testing and analysis devices.
Feel free to consult with us on customizing to match customer usage conditions and environments.
High sensitivity and fast response
Micro PMT utilizes the same high precision structure for electrode arrangement as conventional PMTs and so provides the high sensitivity and fast response needed from a PMT.
■ Micro PMT internal structure

Medical care:Medical diagnosis in the home or at the bedside
Tests and inspections normally held in examination rooms or labs can now be made in emergency rooms or small clinics by using the advantages offered by MicroPMT. Performing sophisticated exams in the home could also allow detecting major diseases while still in their early stage. This means the Micro PMT could
prove ideal not only for early stage disease diagnosis but also daily health care management.
Measurement:Making environmental pollution measurements on an individual or regional scale
Micro PMT also proves ideal as a photosensor for environmental monitoring tasks. Environmental problems including abnormal weather phenomenon and wide-scale natural disasters are recently occurring at places all around the world. If compact measurement devices were readily available, then environmental phenomena could be quickly detected at diverse locations to keep damage and losses to a be minimum.