---
TE Connectivity 專注研發、生產連接器、連接線及相關電子產品超過

50

多萬種,兼顧連接穩定並保護這些產品電力和資訊安全傳遞 。
廣泛應用於各種類消費性電子、車載、電力設備、醫療設備、航太設備、軍工設備、替代能源裝置、照明模組,以及通訊網絡等各產業 。
---
強力產品推薦 :TE 傳感器 Sensors
TE Connectivity (TE) 傳感器是全球技術領導者。 TE傳感器可用於測量壓力、位置、溫度或加速度等屬性。並可通過反饋做出響應的高端設備,TE的傳感器對於下一代數據驅動技術至關重要。
TE產品已擠身世界上最大的傳感器公司之一。 在當今日益互聯的世界中必不可少的傳感器和連接器。TE產品多年來廣泛應用於為各種行業對應出不同類型的傳感器,強項不僅僅包括於汽車工業、醫療器具、家庭電器、國防及航空等工業和運輸領域。
TE產品的技術底蘊可實現壓力、溫度、位置、振動、濕度和流體特性等測量功能。 專注研發的工程師將概念轉化為創意,即使使用在惡劣環境中正得以驗證智能的發想產品,卓越高效性能的讓 TE 產品重新定義任何可能。
請瀏覽TE無與倫比的產品組合中並與我們洽詢。
我們專業資深的服務工程師能為您介紹並找到適合您應用的絕佳傳感器等相應產品 。
產品分類
| | | |
| --- | --- | --- |
| | | |
| CPAP | HVAC | Tire Pressure Monitoring Systems (TPMS) |
| Respiration | VAV Controllers | Manifold Air Pressure (MAP) |
| BiPAP | Pressure Transmitters | Diesel Particulate Filter (DPF) |
| Ventilation | Liquid Level & Pressure | Exhaust Gas Recirculation (EGR) |
| Hospital Beds | Barometric Pressure | Oil Pressure |
| Fluid Evacuation | Process Control | Side Air Bag |
| Blood Pressure | Refrigeration | Transmission Oil Pressure |
| Wound Therapy | Cobots / Robotics | Seat Ergonomics |
Ultrasonic Sensors 超聲波傳感器
Fluid Property Sensors 力/扭矩傳感器
Force/Torque Sensors 力/扭矩傳感器
ptical Sensors Piezo Film SensorsPosition Sensors Pressure Sensors
Force/Torque Sensors 力/扭矩傳感器
ptical Sensors Piezo Film SensorsPosition Sensors Pressure Sensors
TE傳感器特色:
@溫度傳感器:TE產品領先提供 0.1°C 精確度;溫度系統傳感器 (TSYS), 小型化包裝,可用於狹窄空間;快速反應溫度變化;微電路設計極低功耗。
@濕度傳感器:基於強大電容技術,通過結合相對濕度(RH) 和溫度(T) 測量,精確的露點和絕對濕度測量;可實現響應時間 2秒內t63% 和極精度標準 ±2%RH,可極小封裝。
@壓力傳感器:在矽壓阻微機械加工技術和矽應變片技術中,可測量範圍從幾英寸水柱(<5 mbar) 到100K psi (7K bar) 壓力;SMI 微機電技術,低壓範圍可低至125 Pa。
@位置傳感器:包括電感、電位、磁阻、霍爾效應、磁簧開關、電解和電容式傳感等核心技術,TE 精度更高、穩定性更好。
@血氧傳感器:可用於非侵入式的方式測量血氧 (SpO₂) 含量;適應多波長,高度靈活性,脈搏血氧儀。
@扭矩傳感器:一體式機械限動器,可提高過載容量,在安裝和操作期間能提供額外保護

Medical -- Low Pressure : SM9541 & SM3041
Sleep Apnea Treatment
Continuos Positive Airway Pressure (CPAP): Sleep apnea is a sleep disorder characterized by abnormal pauses in breathing or instances of abnormally low breathing, during sleep. CPAP uses mild air pressure to keep an airway open.
Pressure sensors supply feedback of the applied air pressure in the mask/delivery hose to a microcontroller. The microcontroller manages a motor-drive stage of a compressor to maintain the correct fan velocity necessary to generate the required air pressure.
Surgical Waste Management
Application: Healthcare waste management systems minimize risks to healthcare workers by eliminating harmful exposure to fluids and smoke in the operating room. The unit collects and disposes of surgical waste. It prevents contact with infectious fluids and surgical plumes.
The SM3041 pressure sensor is being used to measure vacuum (negative gauge) pressure.

Medical -- Medium Pressure : SM6842 & SM3041
Blood Pressure Monitors
Requirements
Relative/gage pressure
Temperature Compensation & Calibration
Pressure range: 300 mmHg (~5.8 PSI)
Accuracy (typ., system): ±3 mmHg (±1%FS)
Op. temperature range (typ.): +5°C to +40°C (<90% rH
Patient Monitors
Application: In the hospital setting, patient monitors are taking multiple life signs such as blood pressure and monitoring various respiratory components such as breathing, oxygen delivery, and anesthesia.
The SM3041 and SM9541 Series pressure sensors are being used to measure low and medium pressure.

Industrial -- Low Pressure : SM6842 & SM9541 & SM5420C
Filter Guard
Filter Performance Monitoring: Media air cleaners capture airborne particles passing through the filter. Pressure sensor in door indicates pressure drop and transmits to wireless receiver, which indicates filter replacement.
Water-Level Detection
Liquid Level Measurment: With growing water conservation and environment regulation, water level accuracy is paramount. Accuracy down to +/- 1mm of water column is necessary in some cases.
The SM9541 and SM9540 Series provide low pressure measurement in the 300 to 500 mm H2O range.
Valve Positioner
Intelligent digital valve controllers
With advances in building technology and energy efficiency mandates, pressure sensors are used for valve positioning and monitoring of supply pressure. Regulation of temperature and airlfow is key and managed with pressure monitoring systems.
The SM5420C Series provides remote ambient pressure measurement for intelligent valve controllers.

Automotive -- Ultra Small Sensors : SM5420C & SM5108
Tire Pressure Monitoring Systems (TPMS)
Legislation in USA (2007) requires all new cars to be equipped with TPMS.
2013 – Europe started with 100% compliance in 2014.
2014 – South Korea confirmed legislation.
2017 – Japan intends to legislate.
2018 – China intends to legislate.
2019 – India intends to legislate.
SMI Offers Low Cost, Reliable Solution:
Gen-1: Small Size
Automotive Qualified, High Volume
Gen-2: Buried Cavity, All Silicon
Pedestrian Protection
During collision a sealed air hose integrated into front bumper is distorted. Two pressure sensors at both ends of hose detect impact through resulting pressure changes. A mechanism to lift the hood of the car towards the pedestrian is activated.
Side Airbag
Side impacts still cause about 35% of fatalities. Due to shorter distances the firing decision of a side airbag needs to be much faster than for a front crash. When the door is compressed at side impact the sensor provides a signal pulse proportional to the pressure change inside the door frame.
Product Overview - Areas of Expertise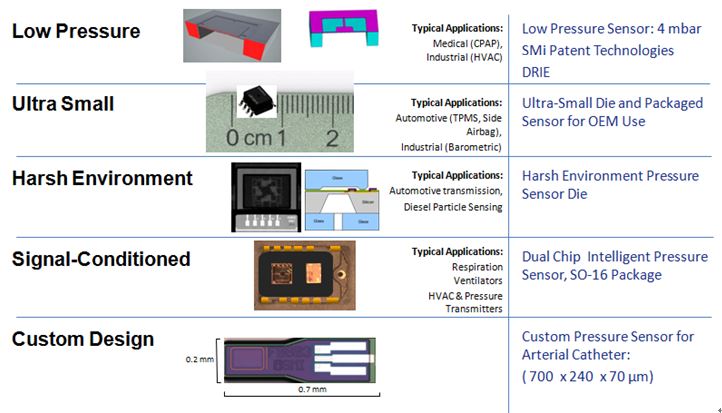 Pressure Sensor Portfolio