Hamamatsu Photonics Infrared detectors
with sensitivity to wavelengths above 1 µm. Careful selection of material combinations allows offering a variety of types that cover a broad spectral range.
Infrared detectors are widely used in diverse field including measurement, analysis, industry, communication, agriculture, medicine, physical and chemical science, astronomy and space. Based on long experience involving photonic technology, Hamamatsu provides a wide variety of infrared detectors in order to meet a large range of application needs. In addition to the standard devices listed in this catalog, custom devices are also available on request. Please feel free to contact the nearest sales office in your area.
Hamamatsu Infrared Detectors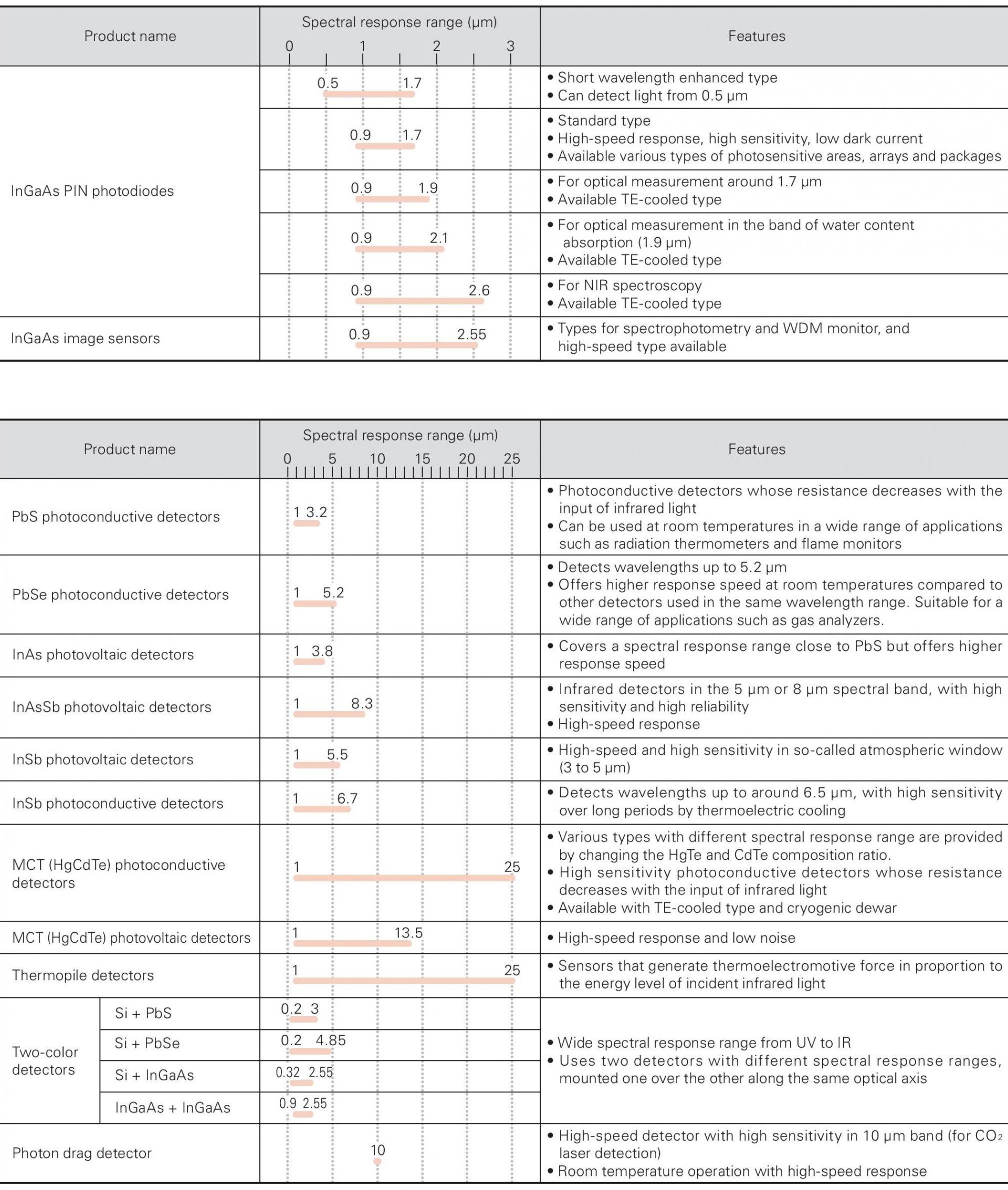 Spectral response of HAMAMATSU infrared detectors

(typical example)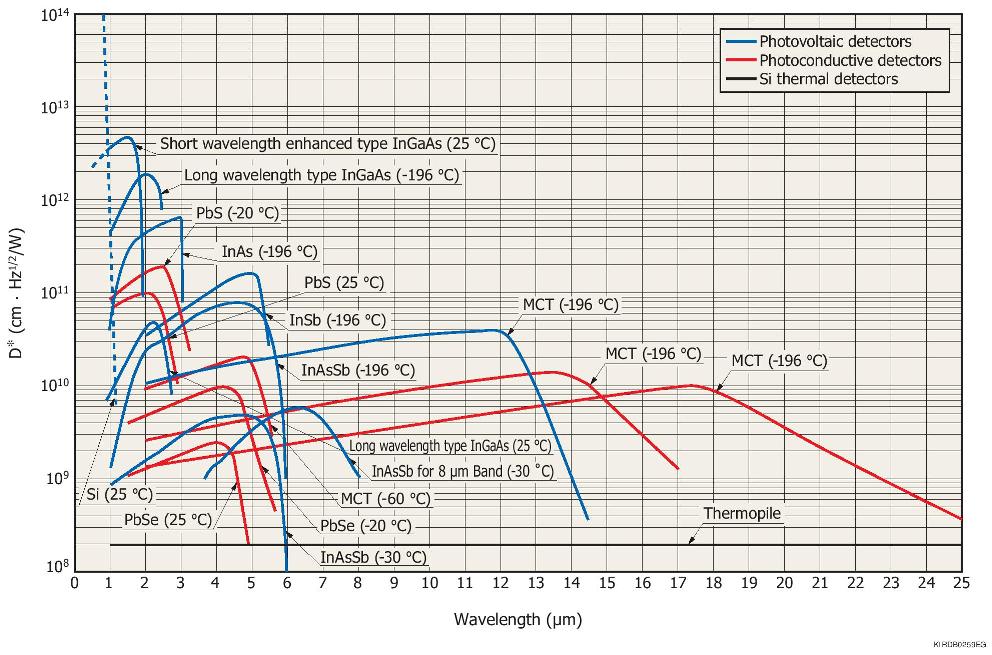 When using infrared detectors, the following points should be taken into consideration for making a device selection.
As can be seen from the fi gure above, HAMAMATSU provides a variety of infrared detectors with different spectral response characteristics. It should be noted that cooling a detector element may affect its spectral response. For InGaAs, InAs, InSb and InAsSb detectors, the spectral response shifts to the shorter wavelength side; in contrast, for PbS, PbSe and MCT detectors it shifts to the longer wavelength side.
Various detectors are available with different response speeds. It should be noted that the response speeds of the PbS and PbSe detectors become worse with cooling.
Photosensitive area and number of elements
HAMAMATSU photosensors are available in a wide range of photosensitive area sizes. Also available are multi-element detector arrays optimized for high-speed multichannel spectrophotometry.
Besides easy-to-use photosensors designed for room temperature, HAMAMATSU provides various types of sensors that are cooled with thermoelectric coolers, cryogenic dewars (for liquid nitrogen cooling).
When selecting a detector in accordance with the temperature of an object, it is necessary to consider the distribution of the energy (the wavelength dependency of the energy) radiated from the object. When the temperature of the object is changed, the distribution of the radiating energy is given by the law of black body radiation (Planck's law), as shown in the fi gure at the righthand side. The following relationship is established by the peak sensitivity wavelength λp (μm) and the absolute temperature T (K). λp · T=2897.9
Law of black body radiation (Planck's law)