Hamamatsu Photonics
提供一個乾淨的電離技術,利用光來產生離子進而中和靜電電荷。一些物體上或環境上難以用常規的方法消除的靜電,由於光可以直接電離在空氣中的原子和分子(真空環境下為殘餘的原子和分子),因此能夠迅速且有效地消除。在各種靜電會造成問題的製程中,光電離有助於提高產品的良率和產能。
Photoionization is a clean ionization technique that utilizes light to generate ions that neutralize electrostatic charges.
Light can directly ionize atoms and molecules in the air (residual atoms and molecules in case of a vacuum) and so can instantly and very efficiently remove electrostatic charges even from "objects" or "environments" where electrostatic charges have proven difficult to remove by conventional methods.
Photoionization helps to improve product yield and throughput in a variety of processes where static electricity can cause problems.
How "Photoionization (electrostatic charge neutralization by light)" works
When
soft X-rays
or
vacuum ultraviolet (VUV)
light hits a stable atom or molecule, an electron is ejected out of the atom or molecule leaving behind a positive ion (positive polarity atom or molecule). The ejected electron then combines with another stable atom or molecule to form a negative ion (atom or molecule ofnegative polarity).

The ions generated near a charged object are then attracted to the charged object to neutralize the electrostatic charges. All other generated ions return to the atoms or molecules from which they were ejected.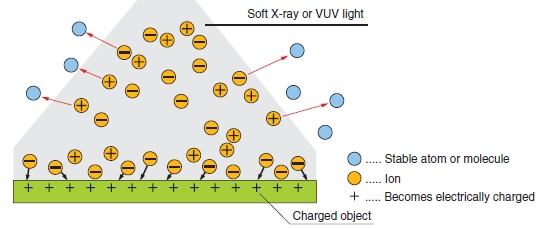 — High ion density —
Unlike ordinary discharge ionizers that generate ions only in the "area near the discharge electrodes," photoionization generates high-density ions over the "entire area irradiated with light" to efficiently remove the electrostatic charges.
— "Soft X-ray irradiation area" = "Ion generation area" —
Ordinary discharge ionizers generate ions by discharge and send them toward charged objects by air flow. Photoionization constantly generates ions over the entire area irradiated with light. This means that ions are also generated near the charged objects, eliminating the need to send the ions by air flow.
●No overshoot (no generation of opposite-polarity charges)
— Good ion-generation balance —
An imbalance in the number of positive and negative ions that are generated can cause overshoot. However in our photoionization process, the same number of positive and negative ions is generated at the same time so there will be no imbalance in positive and negative ions sprayed onto the charged objects and no overshoot occurs.
●Generates "NO" dust and magnetic noise
— Ionization by light —
Ordinary discharge ionizers have problems including foreign matter defects that may occur due to dust, malfunctioning peripheral electrical devices due to electromagnetic noise, and electrostatic charges that cannot be neutralized in a vacuum. Photoionization eliminates all of these problems to ensure clean and reliable neutralization and without generating dust and electromagnetic noise.